Free parking booking on our website (depending on availability)
BOOK WITH US AND BENEFIT FROM EXCLUSIVE ADVANTAGES
Petit Hotel
They say the best perfumes come in small bottles. Ciutadella is a small town full of picture postcard narrow streets and alleys, where the ancient aroma of the past hangs in the air. The Bosch brothers have opened a small hotel in one such street in the centre, at number 40 in Calle de sa Carnisseria. They have converted an early nineteenth century townhouse into a boutique hotel, where they would like you to feel quite at home. There are only five bedrooms: consider them your lighthouse during your stay in Menorca, and enjoy your holiday on the island as much as we love living here.
A private and free of charge parking 300m away
Our luxury is all about simplicity, but if you come by car, we have a small private car park just 300m away (here, everything is small), which we are sure you will find eminently convenient.
---
ROOMS
Cavalleria
Double room with terrace
More info
Cap d'Artrutx
Double room with terrace
More info
What can we offer you?

"Local produce on the menu "

Making the most of a stay in Menorca is all about tasting local food. There is a selection of local produce every morning for your breakfast (a meal called berenar here). And we can let you in on the secret of where to find that heavenly tasting sobrasada to take home with you.

What can we offer you?

"Chatting under a Menorcan arch "

The first place we would like to show you, as soon as you come in the front door, is our small cellar with an arch carved in the local limestone. It is an architectural jewel, a great spot to sit and sip a gin and lemonade or sample some of the famed local cheese.

What can we offer you?

"Our door is open all year round."

The doors of the Petit Hotel 5 Fars have a Menorcan latch which can be opened whenever you like. The island is to be enjoyed not merely for its beaches and summer fiestas, but 365 days a year.

What can we offer you?

"Our advice"

As we were born here and we like exploring, we know every inch, every talaiot (you will discover new words when you get here) and every adventure worth experiencing in Menorca. If you want some advice on what to see and do, we can help, and if needs be, we can accompany you. By the way, we go for a walk along the Camí de Cavalls on Sundays. Anyone want to join us?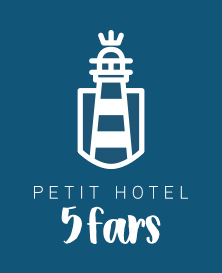 C. Carnisseria, 40
Ciutadella de Menorca
07760 · Balearic Islands